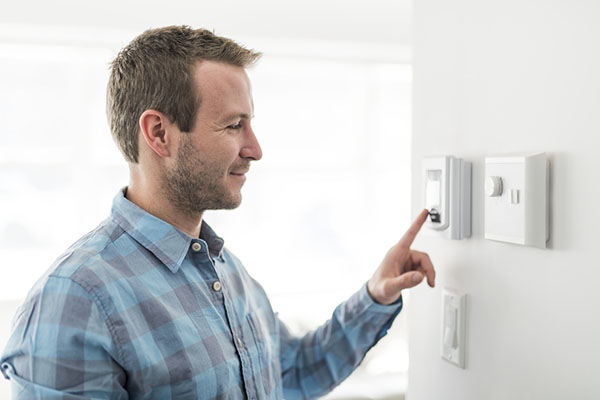 Save Money on Your Heating Bill with These 6 Tips
Are you staring at the thermostat eager to crank it up just one more degree – but find yourself frozen with the fear of a giant bill at the end of the month? With a few adjustments around the house, you can keep your energy tab low while staying comfortable around the house. Here are a few recommendations.
Adjust the Thermostat
Taking some initiative with your thermostat can help you cut costs. Also, make adjustments depending on the time (day or night) and whether you're home or out on the town. For instance, if it's a nice, sunny day, open your windows to enjoy natural warmth. If you're heading out, set the thermostat a bit lower; a 10-degree difference can net sizable savings (5-15%) on your annual statement.
Only Heat Certain Rooms
While you're managing your thermostat, consider where that hot air is going—and whether that's just wasted energy. If you have guest rooms or storage spaces you aren't using, close their vents. This keeps the hot air flowing where it's needed, and your HVAC systems won't have to work as hard to heat your home.
Proper Insulation
Once the heat is isolated to the rooms you're using, make sure it's staying in your house. Consider weather stripping for doors and windows, or if you're already set up, make sure you don't have any leaks.
This can be done by holding a lit match or candle and seeing if the flame moves due to a draft. Hot air can be kept where it's needed by double checking attic insulation and the space around door frames. You can even put your ceiling fans to work to enjoy extra warmth.
Use Ceiling Fans to Improve Airflow
Ceiling fans aren't just for the summer; you can change the turning direction with the flick of a switch. Look for this button at the fan's base, which will get it turning clockwise. Keep it set on low; this will push the hot air down so you can enjoy it.
Change Filters
Speaking of airflow, keep a close eye on your filters. Changing them when needed (approximately once a month) reduces energy costs, but it's also good for your furnace's long-term performance. While you stay nice and toasty, you're also breathing in higher-quality air.
Schedule a Maintenance Check by HVAC Professionals
Lastly, schedule regular maintenance to ensure everything works properly. You could completely redo the insulation in your home and board up every door and window, but if your heating system is sluggish or breaks down, you'll have to dress in layers to find any warmth.
A quick tune up helps ensure your unit makes it through the cold season, but a HVAC professional can also verify the system isn't working too hard to keep your bill lower.
The experts at Patriot Air can perform this routine checkup for you this season. We can double check your heating system and recommend any repair or maintenance to keep it working as long as possible. For more information or to schedule an appointment, reach out to us today. Proudly serving Pickerington, Gahanna, Columbus and the surrounding areas.