Furnace Repair Columbus Ohio
Fix Your Furnace Now
One of the worst feelings is expecting to warm home on the first really cold day of the year, but to discover your furnace has failed you. Gear up for the winter season in central Ohio with fast, friendly, honest HVAC technicians to repair your furnace and warm your home today.
Our experienced, certified furnace repair technicians will pinpoint the problem to have your furnace repaired and running in no time.
It doesn't matter which furnace brand needs to be fixed; we can fix them all.
The Benefits of a Patriot Air Furnace Repair

NATE Certified
for Furnace Repair

100% Satisfaction
Guarantee

$20 Off First Furnace Repair Service
Need a Local Furnace Repair Company?
Did your furnace turn off? Stop trying to figure out what to do if your furnace stops working? Patriot Air is fast, friendly and fair. Our technicians can help you get your heat back up and running quickly. Are you not sure what is wrong with your furnace? No problem, Patriot is here to help with any furnace repair!
All of our technicians are NATE-certified experts, equipped to address any variety of furnace repairs in greater Central Ohio. We have the experience and know-how to quickly diagnose the problem and implement the right repair solutions to ensure your system is up and running just as soon as possible.
Same Day Furnace Repair
We know that when your furnace stops working, there is no time to waste. If you call us, we will show up. Our technicians take the time to do a thorough review of your furnace and explain what furnace repairs are needed, including all of your options.
Patriot Air professionals are fully licensed, bonded and insured to work with all brands and models on the market.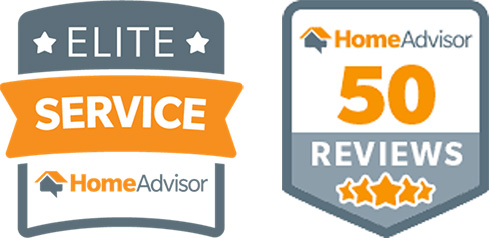 The Patriot Air Process
The Patriot Air Process is simple, straightforward and convenient. Call or click to schedule an appointment with one of our knowledgeable technicians. From there, we'll build a free plan and estimate designed around your needs and have you relaxing in your perfectly climate-controlled home in no time. In four simple steps you will see why we are listed as a top HVAC Company Columbus, Ohio

Schedule an Appointment
Patriot Air makes it simple to get in touch and schedule an appointment. Fill out our brief contact form online or call us at our Central Ohio headquarters to discuss your heating and cooling needs.

Meet with Our Technician
Not every HVAC company in Columbus, Ohio is created equally, and not all HVAC technicians have the same level of training and expertise. Experience the Patriot Air difference when you meet with one of our skilled and respectful professionals.

Free Estimate & Plan
We understand that each and each home has different needs and requirements. Rather than take a one-size-fits-all approach, we build free, straightforward and transparent estimates and plans that equip you with knowledge and options.
Emergency HVAC Company in Columbus, Ohio
Patriot Air is committed to offering only the highest level of customer service for your emergency HVAC repair services in Columbus, Ohio. Customers can count on our trusted professionals to get the job done right the first time.
Common Problems With HVAC Systems Include:
Issues with Airflow
Clogged / Dirty Filters
Thermostat Problems
Pilot or Ignition Control Issues
Improper Maintenance
While these represent the most common issues that lead to heating and furnace repair, there may also be other, less evident problems. These issues are why it is important to trust the work done by experienced and skilled technicians, who will see that the system is in proper working order and operating safely and efficiently in your home.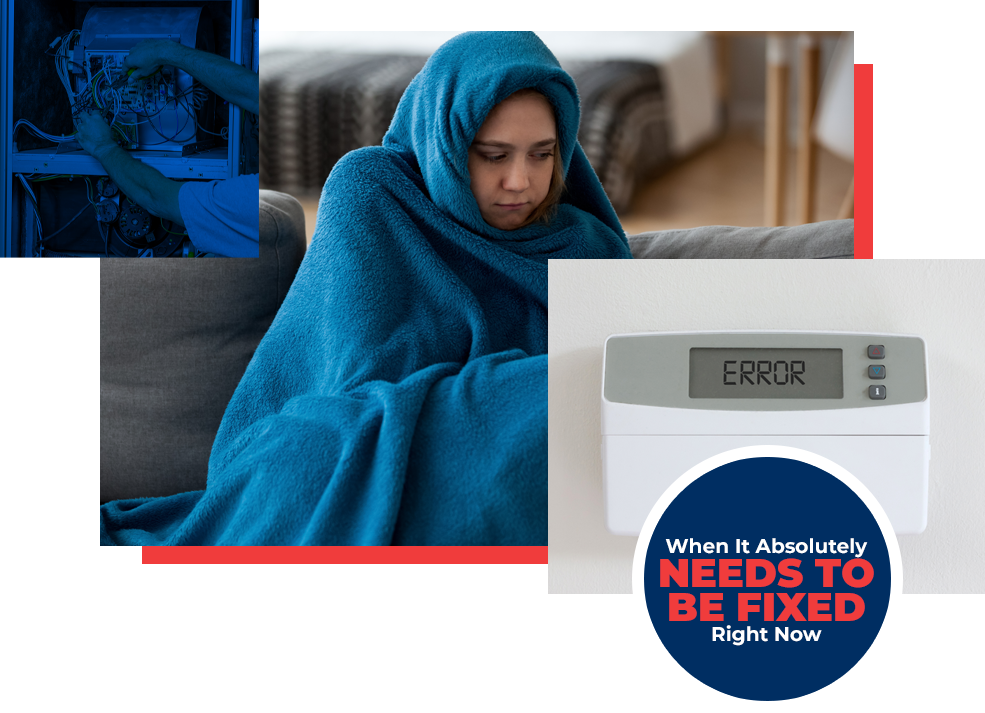 We the People, Love Patriot Air
Read our success stories and find out why homeowners and business owners alike choose Patriot Air as their top choice for HVAC Services in Columbus, Ohio. Our customers say it all, we pride ourselves on creating a great experience so we can be recommended as a top HVAC Company, in Columbus, Ohio.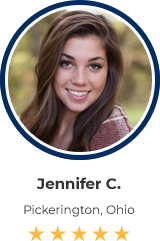 Fast & Efficient Service...
Patriot Air showed up on time, checked out my furnace, and within minutes of being there not only diagnosed the problem, but had the parts on the truck to fix it. Within thirty minutes, my furnace was blowing hot air again. Brian, the technician gave me tips on how to take better care of my furnace and even showed me how to change the air filter by myself. I couldn't be happier and I've found my HVAC company for life. Thank you Patriot Air!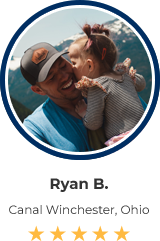 Patriot Air to the Rescue...
Our furnace went out while we were at work, and we came home to a freezing house. We have small children, so having it too cold in the house isn't an option. We called around to a few places, and Patriot Air was the only HVAC company to return our call and immediately rushed a technician to our house. I can't thank them enough for putting my family first and ensuring my kids had a warm home to sleep in. I tell everyone Patriot Air is the only HVAC company I'll ever call again.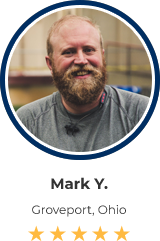 Knowledgeable & Professional...
I previously had an HVAC company come out to my house and attempt to
repair my heat pump
. They showed up late. The technician spent most of the time on his phone, tracked mud into my house, and ultimately had no idea how to fix my problem. I called Patriot Air the next day, they showed up that same day, found and fixed the problem, and treated me and my house respectfully. I highly recommend Patriot Air for your HVAC needs.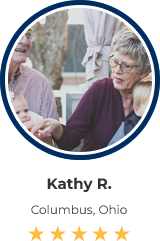 Honest & Courteous...
Having a fixed income with unexpected expenses, like fixing the furnace and air conditioning, is hard. Luckily for us, Patriot Air is a company that doesn't nickel and dime you to death and is very fair-priced. They didn't try to sell us anything we didn't need and made sure we were comfortable with the price before they did any work. We were able to afford our repairs through their financing program. Now our central air is working wonderfully.
Furnace Repair in Central Ohio
We are committed to offering only the highest customer service and the most professional emergency furnace repair services in Columbus and around Central Ohio. Customers can count on our trusted professionals to get the job done right the first time. If you would like more information regarding furnace repairs, contact Patriot Air today.
Did you know that Ohio winter weather affects your furnace performance?
Winter in Ohio is miserable. Harsh winter weather, like snow and below freezing temperatures, can affect your furnace performance. The worst part is most furnace issues always happen on the coldest day of the year. It's because on these cold days your furnace is working harder to heat your home. The colder weather will cause your furnace run cycle to run longer, but your furnace should never start running more frequently. The last thing you need is your furnace going out during the winter and potentially ending up with more major problems, like your pipes freezing.
The best ways to keep your furnace performing its best during winters in Ohio are:
Regularly change air filter in your furnace
Keep outside furnace vents free from ice and snow
Remove any snow or ice piled up on the dryer vent
Also keep inside furnace vents open and not blocked by objects
In the winter, it's also best to set your thermostat to 68℉ or a lower temperature during the day when you're not home and at night when you are sleeping. Keeping your home at a lower temperature will actually slow down the loss of heat inside your home, and increasing the temperature will not overwork your furnace. You should also be mindful of where your thermostat is located in your home. Thermostats that are located in direct sunlight can produce false readings which could also affect the efficiency and performance of your furnace.
No matter what Ohio winter weather brings, your local furnace repair experts at Patriot Air are here to help around the clock.
Frequently Asked Questions
There are many reasons your furnace may need repaired.
What should I do if my furnace is constantly running?
If your furnace is constantly running, there is likely a problem with your thermostat. Thermostat issues need immediate attention because running your furnace too much can cause premature wear and tear.
My furnace has a strange smell.
Multiple problems can cause your furnace to develop a strange smell. A simple furnace service call will be able to help you determine how to correct this issue.
How long does a furnace repair take?
Often, we can repair furnaces the same day with parts on hand depending on the issue your furnace is having.
I have a furnace repair emergency? What should I do?
In an emergency, call us at (614) 577-1577. We have 24/7 emergency furnace repair technicians standing by. We can help get your heat back up and running in no time.
How much does a furnace repair cost?
A typical house-call for a furnace repair is under $100 in central Ohio. Pricing is based on the type of repair that your furnace needs.
My furnace is making a ticking sound, what should I do?
If your furnace is making strange sounds, it's time to call for furnace repair services. Strange sounds are most likely a mechanical failure that needs to be addressed by a professional furnace repair expert.
How long does a furnace typically last before it needs replaced?
Your furnace can last up to 30-years with proper maintenance and tune-up programs. Be sure to repair and maintain your furnace throughout the year to preserve maximum life.
My furnace isn't working, what should I do?
If your furnace has stopped working, the root cause could be many different problems. Contact a furnace repair professional if your thermostat is on and working but the furnace still is not responding.