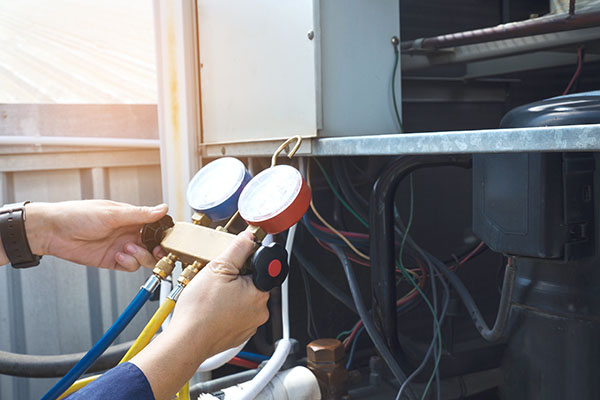 Troubleshoot Common Furnace Problems
Though there could be any number of reasons your home's heating system is acting up, don't assume the worst when your furnace starts to fizzle. There are a few common problems that should be checked before you consider replacing your heating source.
Below are some of the most basic issues that could cause your furnace to run less efficiently. Your HVAC professional will check these problems first and ensure they're resolved.
Dirty or clogged filters
Clogged filters block airflow, creating problems with heating consistency and overall comfort levels. A new filter will transform the efficiency of your unit.
Broken thermostat
If you're finding your home has no heat, the fan is spinning ineffectively, or the house won't stay comfortably warm, it might mean a broken thermostat.
Pilot light out or ignition issues
Relighting a pilot can be an easy fix, but be sure to have it checked out to avoid intermittent heating or failure to heat at all. A pilot light that won't stay lit can signal a bigger problem.
Lack of air circulation
When the warm air ceases to circulate properly, your home can't stay heated. The fan motors, belts, and bearings can be running, but if the air isn't circulating, they'll be ineffective.
Erratic maintenance history
Not keeping up with yearly furnace maintenance may cause breakdowns, cold spots, or higher energy costs. Preventative furnace care can save you from cold and expensive service calls.
Starting with these issues ensures the simplest problems are handled first. If your furnace still heats your home unevenly or doesn't run efficiently, a skilled technician can further investigate what's causing your furnace trouble.
With winter upon us, it's even more important to make sure your furnace is running in peak condition. Both simple and complex furnace issues can be solved by a simple phone call to a certified Columbus Ohio HVAC company. A trained technician can diagnose your furnace to make sure your home stays warm during this cold season.
Get Check-ups for Furnaces Before Winter
Even if your furnace is running well now, it's best to diagnose furnace problems before they start. Waking up to no heat on a snowy morning can make anyone's day tough. Get a furnace checkup today before the frigid air hits tomorrow to protect you from poor heating or no heating at all.
After a furnace inspection, you may find the system you thought was running fine is even more efficient. When a furnace runs at its most efficient, it'll heat your house evenly and only turn on when directed by the thermostat. If these things are on the fritz and you aren't aware of it, resolving those problems now will save you from waking up to a cold house, and it'll help keep you from paying costly energy bills.
Make sure all diagnostic issues for your furnace are taken care of by a qualified and experienced HVAC technician. Contact Patriot Air Comfort Systems today to resolve your furnace problems or schedule an inspection to protect your heating system.